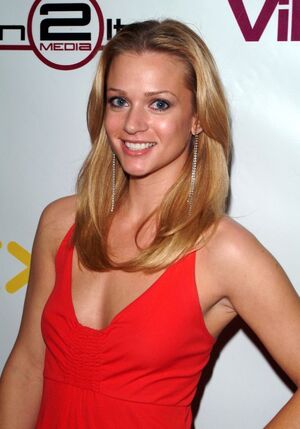 Andrea Joy "A.J." Cook (born July 22, 1978, in Oshawa, Ontario) is a Canadian actress. She had a guest role on What's New, Scooby-Doo?.
Biography
A.J. Cook's first acting job was in a McDonald's commercial in 1997. Though she didn't begin acting until age 17, Cook appeared in nearly a dozen films and several TV shows before the age of 25. Before taking up acting, she was a dancer, having started dancing competitively at age 4 in the styles of tap, jazz and ballet. Cook's first big role came in the 1999 film The Virgin Suicides, directed by Sofia Coppola. Later that year, she landed the role of Shelby Merrick in the TV series Higher Ground, which also starred her good friend Jewel Staite, who is also Canadian.
Cook has been married to Nathan Anderson since 2001. Their son, Mekhai Allan Anderson, was born in 2008 and plays Cook's son, Henry LaMontagne, on the TV series Criminal Minds.
External links
Ad blocker interference detected!
Wikia is a free-to-use site that makes money from advertising. We have a modified experience for viewers using ad blockers

Wikia is not accessible if you've made further modifications. Remove the custom ad blocker rule(s) and the page will load as expected.