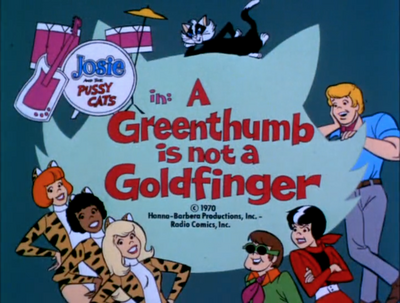 A Greenthumb Is Not a Goldfinger is 2nd episode of Josie and The Pussycats, it originally aired on September 19, 1970.

Plot:Thanks to Alexandra's scheming, the gang, thinking that they are headed to Nashville for a gig, end up in the Amazon jungle, where they encounter an evil botanist named Dr. Greenthumb, his man-eating plants, and headhunters.
Ad blocker interference detected!
Wikia is a free-to-use site that makes money from advertising. We have a modified experience for viewers using ad blockers

Wikia is not accessible if you've made further modifications. Remove the custom ad blocker rule(s) and the page will load as expected.