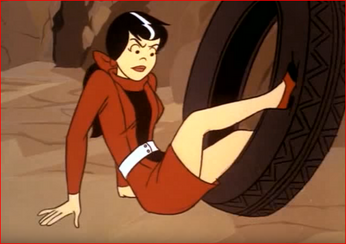 Alexandra Cabot is the twin sister of Alexander Cabot III and the main antagonist in the Josie and the Pussycats franchise.
Personality
Alexandra is mean, hateful, spoiled, abrasive, rude, offensive and a huge bully. She never does anything to help the gang and her jealousy always causes the gang's problems. She obsessively wants Alan for herself and always tries to make Josie look like a fool in front of everyone, but it always backfires on her and she ends up with the short end of the stick. She also shows her mean streak towards her equally mean twin brother, Alexander when he was focusing on the Pussycats and his cowardly attitude.
Appearance
Alexandra appears to have a long black hair with a full fringe and has a single white lined highlight at the center of her head and is styled in a low ponytail adorned with a red ribbon. Her hair is a contrast to her Archie Comics counterpart as the highlight at the center of her head is red and black eyes.
Her primary and notable appearance to suit her style is a red and black long sleeve short dress with a matching white belt to her waist and red heels with black toe caps.
In Josie and the Pussycats in Outer Space, her space outfit is identical to Josie, Valerie and Melody as the color scheme is based on her primary outfit which is red and black. She wears a red space suit with a white sailor collar, red pants with a black belt with a Pussycat buckle and black boots.
Gallery