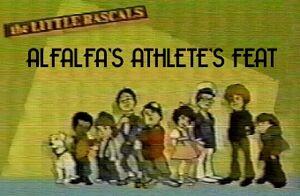 First aired: November 13, 1982
Story by: Unknown
Duration: 11 minutes
Cast
Summary
Butch challenges Alfalfa in a pentathlon. Butch tries every effort to get Alfalfa off course and cheat to win. After Butch's last attempt, Alfalfa ends up stuck in a tar pit, having lost his shoes. Alfalfa proves to be the stronger person by running the last leg of the race barefoot. Alfalfa ends up winning the pentathlon, and Butch is angry that his schemes backfired.
Notes/Trivia
When training camp is in session, Butch paints an "S" onto the sign, calling it a "straining camp."
Ad blocker interference detected!
Wikia is a free-to-use site that makes money from advertising. We have a modified experience for viewers using ad blockers

Wikia is not accessible if you've made further modifications. Remove the custom ad blocker rule(s) and the page will load as expected.