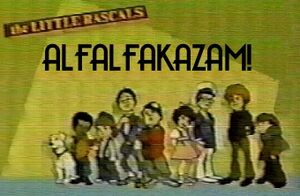 First aired: October 9, 1982
Story by: Unknown
Duration: 11 minutes
Cast
Summary
At the start of the episode, Spanky is studying stage magic, trying to learn how to levitate Darla in the air. Meanwhile, Buckwheat and Porky try to capture a rabbit for another trick Spanky wants to perform, but Porky has eaten all of the carrots.
When Spanky performs the actual show for the neighborhood kids, his acts include pulling handkerchiefs out of his fist, sawing an assistant in half (the "assistant" is actually Porky and Buckwheat in a long coat), levitating Darla, pulling Pete out of his hat, and sending Alfalfa into a "disappearing cabinet".
Once off the stage, Alfalfa continues the search for a rabbit. He sees one, but gets caught in the snare while the rabbit hops into the cabinet. Thinking that Spanky changed Alfalfa into a rabbit, the other Rascals pursue it. The rabbit is soon lost among many other rabbits. Thankfully, Alfalfa wasn't changed into a rabbit after all.
Notes/Trivia
The letter "M" is rarely used in the series' title cards - it was only used in two other titles: "Darla's Dream Dance" and "Flim Flam Film Fans."
One of only two episode titles to use an exclamation point - the other one being "Save Our Treehouse!"
Alfalfa is apparently a fan of rabbits. In "The Zero Hero", Alfalfa tunes in to a TV show about rabbits.
Ad blocker interference detected!
Wikia is a free-to-use site that makes money from advertising. We have a modified experience for viewers using ad blockers

Wikia is not accessible if you've made further modifications. Remove the custom ad blocker rule(s) and the page will load as expected.