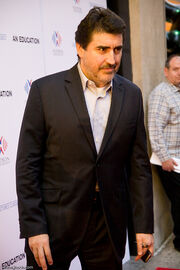 Alfred Molina
(born May 24, 1953, in London) is an English actor. He was the voice of Professor Jeffries in
Chill Out, Scooby-Doo!
.
Biography
Alfred Molina was born in 1953 in London, the son of a Spanish father and an Italian mother. He studied at the Guildhall School of Music and Drama in London. His stage work includes two major Royal National Theatre productions, Tennessee Williams' "The Night of the Iguana" (as Shannon) and David Mamet's "Speed the Plow" (as Fox), as well as a splendid performance in Yasmina Reza's "Art" (his Broadway debut), for which he received a Tony Award nomination in 1998.
Molina made his film debut in Raiders of the Lost Ark (1981) and got a good part in Letter to Brezhnev (1985) as a Soviet sailor who spends a night in Liverpool, but his movie breakthrough came two years later when he played--superbly--Kenneth Halliwell, the tragic lover of playwright Joe Orton, in Stephen Frears' Prick Up Your Ears (1987). He was also outstanding in Enchanted April (1991), The Perez Family (1995) (as a Cuban immigrant), Anna Karenina (1997) (as Levin) and Chocolat (2000) (as the narrow-minded mayor of a small French town circa 1950s, who tries to shut down a chocolate shop).
External links
Ad blocker interference detected!
Wikia is a free-to-use site that makes money from advertising. We have a modified experience for viewers using ad blockers

Wikia is not accessible if you've made further modifications. Remove the custom ad blocker rule(s) and the page will load as expected.