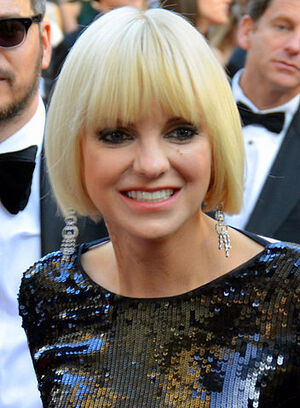 Anna Kay Faris (born November 29, 1976, in Baltimore) is an American actress and singer. She played Rachel in the 2010 film based on Yogi Bear.
Biography
Anna Faris was born in Baltimore to Karen Bathurst Faris, a special ed teacher, and Jack Faris, a sociologist. She grew up in Edmonds, Washington. Her ancestry includes English, German, Scottish, French, Dutch and Welsh.
Faris started acting very young but not professionally. She loved watching plays and eventually produced her own with all the neighborhood children. She was always encouraged with the emphasis that she wasn't just "pretending" but rather being an unpaid producer, director, writer and actor.
Faris' first paid job was at the Seattle Repertory Theatre at age 9. She loved it and did other local plays and readings. After graduating from the University of Washington in English Literature, she decided to leave for London to work and write. But after filming (the less than wonderful) Lovers Lane (2000) and a short for the Seattle Film Festival, she decided to give Los Angeles a try. She signed with up with a wonderful management agency and before she could catch her breath, Keenen Ivory Wayans cast her in Scary Movie (2000).
Faris is a natural blonde. She dyed her hair black during the production of Scary Movie and its 2001 sequel so she could give her character, Cindy Campbell, a "Neve Campbell-ish look".
External links
Ad blocker interference detected!
Wikia is a free-to-use site that makes money from advertising. We have a modified experience for viewers using ad blockers

Wikia is not accessible if you've made further modifications. Remove the custom ad blocker rule(s) and the page will load as expected.