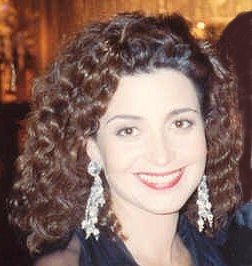 Anne Hampton Potts (born October 28, 1952, in Franklin, Kentucky) is an American actress, best known as a cast member on the CBS sitcom Designing Women. She did supporting voices on The Kwicky Koala Show.
Biography
Interested in stage and film at an early age, Annie Potts attended Stephens College in Missouri, enrolling in the theater studies course, followed by graduate work in California.
At the age of 20, Potts married her college sweetheart, Steven Hartley. Only a short time later, the couple were in a serious automobile accident in New Mexico—their Volkswagen bus was demolished by two drivers who were drag racing. Hartley lost a leg, and Potts had multiple fractures, resulting in a traumatic arthritis that still persists.
Potts' early roles were primarily in television, such as Black Market Baby (1977), but her presence moved up with an appearance in the mega-hit Ghostbusters (1984), and then she hit the big time with a seven-year stint as one of the stars of Designing Women (1986). A brief period in Love & War (1992) ended with the cancellation of the show, about which she remains resentful.
External links
Ad blocker interference detected!
Wikia is a free-to-use site that makes money from advertising. We have a modified experience for viewers using ad blockers

Wikia is not accessible if you've made further modifications. Remove the custom ad blocker rule(s) and the page will load as expected.