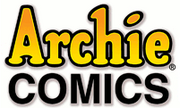 Archie Comics is an American publisher of comic books. Besides Archie himself, the company's properties include Josie and the Pussycats.
Hanna-Barbera titles
The Flintstones (1995, 22 issues)
Hanna-Barbera All-Stars (1995, four issues)
Hanna-Barbera Presents (1995, eight issues)
The Jetsons (1995, eight issues)
Scooby-Doo (1995–97, 21 issues)
Yogi Bear (1997, one issue)
Notes/Trivia
One of the characters in the Archie Comics franchise, Reggie Mantle, may have been the inspiration for Reggie Van Dough in the Richie Rich series of comic books and animated series.
External links