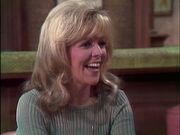 Arlene Golonka
(born January 23, 1936, in Chicago) is an American character actress. She was the voice of
Debbie
on
Speed Buggy
.
Biography
A native Chicagoan, veteran character actress Arlene Golonka was born Arline Golonka. Her surname is Polish for "pig's foot" or "hamhock". She seemed destined for acting from the start, having been named after silver screen actress Arline Judge, and her childhood was dominated by singing and acting classes. She headed to New York at the age of 19 and began a career on Broadway and in films made in New York City, generally playing bubble-headed or eccentric blondes, often prostitutes.
Golonka relocated to Los Angeles in the late 1960s. There, while continuing to play small roles on the big screen, she established one of the strongest résumés in television of any character actress, appearing in dozens of programs over the next three decades, often repeatedly on the same program and sometimes playing different characters.
Her TV appearances included such legendary programs as Mary Tyler Moore (1970), All in the Family (1971) and M*A*S*H (1972). Her best-known recurring performance as the same character is probably "Millie" on Mayberry R.F.D. (1968).
Golonka has largely retired from television work but continues to take roles in feature films occasionally.
External links
Ad blocker interference detected!
Wikia is a free-to-use site that makes money from advertising. We have a modified experience for viewers using ad blockers

Wikia is not accessible if you've made further modifications. Remove the custom ad blocker rule(s) and the page will load as expected.