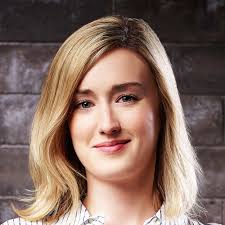 Ashley Suzanne Johnson (born August 9, 1983, in Camarillo, California) is an American actress. Her voice roles for Hanna-Barbera and Cartoon Network include:
Biography
Ashley Johnson was born in Camarillo, California, on August 9, 1983, to Cliff and Nancy Johnson. When she was 9 days old, Ashley's family packed up and moved to Michigan, where her father was transferred (ship captain of an exploration ship). They finally ended up moving to "The Town That Time Forgot" called Franklin. She lived there through most of her life, but now lives in Los Angeles.
Ashley has an older brother named Chris, who worked on the hit CBS series The District (2000), and an older sister named Haylie Johnson, who is an actress and a musician. Her mother, Nancy Johnson, is an independent film producer.
External links
Ad blocker interference detected!
Wikia is a free-to-use site that makes money from advertising. We have a modified experience for viewers using ad blockers

Wikia is not accessible if you've made further modifications. Remove the custom ad blocker rule(s) and the page will load as expected.