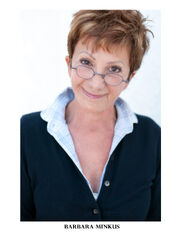 Barbara Ellen Minkus
(born February 20, 1942, in Los Angeles) is an American actress. She is best known as the voice of
Ms. Pac-Man
. Like the animated character, Minkus is a brunette.
Other work
In April 2002, Minkus played Molly Picon in "Picon Pie", a play by Rose Leiman Goldemberg, performed at the Santa Monica (Calif.) Playhouse.
In her other work for ABC, Minkus played various roles on Love, American Style and Gittel the witch on Curiosity Shop.
In 1969, Minkus starred in an unsold comedy pilot for NBC called "The Swingles". The show was set in an apartment building whose residents would meet in the stairway, backyard, basement, etc. and trade one-liners à la Rowan & Martin's Laugh-In.
In 1968, Minkus acted in Zavin, Nassau, Brand and Rosten's musical, The Education of Hyman Kaplan, at the Alvin Theatre on Broadway in New York City with Tom Bosley, Nathaniel Frey and Gary Krawford in the cast. George Abbott was the director.
In 1966, Minkus sang "We Kiss in a Shadow" in an episode of The Danny Kaye Show.
External links
Ad blocker interference detected!
Wikia is a free-to-use site that makes money from advertising. We have a modified experience for viewers using ad blockers

Wikia is not accessible if you've made further modifications. Remove the custom ad blocker rule(s) and the page will load as expected.