The topic of this page has a wiki of its own: Batman Wiki.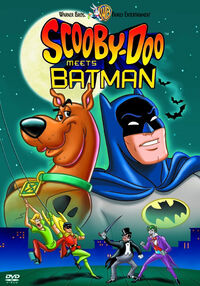 Batman is a superhero created in 1939 by Bob Kane and Bill Finger for DC Comics. He has frequently appeared in animated Hanna-Barbera productions.
Batman and his sidekick, Robin, first appeared in two episodes of The New Scooby-Doo Movies (1972) - that is, one hour-long episode during its first season and one hour-long episode during its second season. In syndication, both of these episodes were split into two half-hour shows each.
In 1973, H-B debuted Super Friends. Now, in addition to Robin, Batman co-starred alongside Superman, Wonder Woman, Aquaman and others. Batman and Superman were close friends in this series, contrary to many comics which depict them as ideological opponents and uneasy allies at best.
In 1979, due to the continuing popularity of Super Friends and perhaps also due to the success of the Superman feature film a year earlier, H-B launched a live-action primetime show called Legends of the Superheroes, and the Caped Crusader was again part of the proceedings. Here he was played by Adam West, as in the 1960s TV show (with which H-B had no connection). The short-lived show only aired two episodes.
Batman's H-B animated adventures continued until 1986 with the end of the run of The Super Powers Team: Galactic Guardians, the final permutation of Super Friends. When Batman returned to animated TV in 1992, Warner Bros.' revived animation department took over the reins.
Voice Actors
Ad blocker interference detected!
Wikia is a free-to-use site that makes money from advertising. We have a modified experience for viewers using ad blockers

Wikia is not accessible if you've made further modifications. Remove the custom ad blocker rule(s) and the page will load as expected.