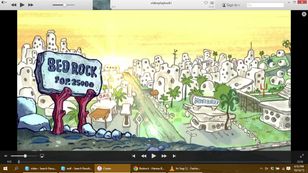 Bedrock
is the fictional city in which
The Flintstones
is set. It is essentially a "Stone Age" version of 1960s American suburbia.
January 6th is the anniversary of its founding.
The annual Bedrock Bronto Derby is run on the fourth Saturday in July.
The Bedrock World Series is played on the third Wednesday in October.
Ad blocker interference detected!
Wikia is a free-to-use site that makes money from advertising. We have a modified experience for viewers using ad blockers

Wikia is not accessible if you've made further modifications. Remove the custom ad blocker rule(s) and the page will load as expected.