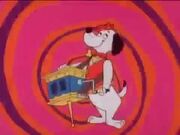 Beegle Beagle
is a fictional anthropomorphic beagle that appears in
The Great Grape Ape Show
(voiced by
Marty Ingels
) as best friend to Grape Ape. Beegle drove a yellow van, and Grape Ape sat on top of it. Grape Ape would refer to him as "Beegly Beagly".
Although Beegle Beagle did not join Grape Ape of the Yogi Yahooeys in Laff-a-Lympics, the pair reunited in MetLife's 2012 Super Bowl commercial.
Ad blocker interference detected!
Wikia is a free-to-use site that makes money from advertising. We have a modified experience for viewers using ad blockers

Wikia is not accessible if you've made further modifications. Remove the custom ad blocker rule(s) and the page will load as expected.