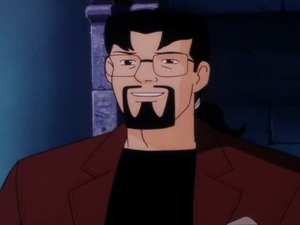 Ben Ravencroft is a character in Scooby-Doo and the Witch's Ghost. He was a famous horror writer descended from Sarah Ravencroft, an evil witch who had been imprisoned centuries ago.
Personality
Early in the film, Ben seemed to be a decent and intelligent man who showed signs of reciprocating Velma Dinkley's romantic attraction to him.
However, after he used the gang to achieve his goal of finding Sarah's spell book, Ben revealed himself to be an evil, manipulative and sadistic megalomaniac with an ambition of world domination.
Powers and abilities
As a direct descendant of Sarah Ravencroft, Ben was a natural warlock, but it appeared that he needed Sarah's spell book to activate his otherwise dormant powers.
Though he was successful in obtaining the spell book and activating his powers through it, his magic–though no less dark and sinister than that of Sarah–was still far inferior than hers. She trapped him in a ball of mystical green energy after he tried to imprison her back into the spell book.
Voice actors
English: Tim Curry
German: Walter von Hauff
Polish: Robert Czebotar
Swedish: Mikael Roupé
External links
Ad blocker interference detected!
Wikia is a free-to-use site that makes money from advertising. We have a modified experience for viewers using ad blockers

Wikia is not accessible if you've made further modifications. Remove the custom ad blocker rule(s) and the page will load as expected.