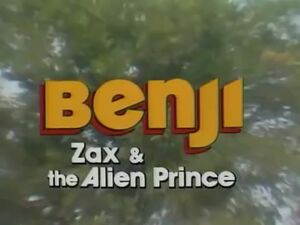 Benji, Zax & the Alien Prince is a live-action series produced by Hanna-Barbera for CBS in 1983.
Plot
The popular canine Benji acts as the self-appointed guide and protector of the young Prince Yubi of the planet Antars (played by Christopher Burton) and his level 2 asynchronous droid, Zax. The crown prince in exile is pursued by the ruthless hunters Darah and Khyber, on orders of the warlord tyrant Zanu, who has taken over the planet and is holding the queen prisoner. Prince Yubi (whose actual age in Antarian years is unknown) must find a way to survive on this strange planet Earth, which he does not understand at all, while avoiding capture by Zanu's hunters.
Episodes
The Prince and the Bag Lady
UFO
The Day of the Hunter
Goldmine
Goodbye to Earth
Ghostown
The Locals
Puppy Love
Double Trouble
Don't Fence Me In
The Flying Lesson
Benji, Call Home
Decoy Droid
YouTube videos
External links
Ad blocker interference detected!
Wikia is a free-to-use site that makes money from advertising. We have a modified experience for viewers using ad blockers

Wikia is not accessible if you've made further modifications. Remove the custom ad blocker rule(s) and the page will load as expected.