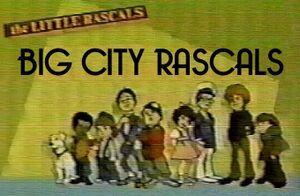 First aired: October 9, 1983
Story by: Unknown
Duration: 11 minutes
Cast
Summary
The boys are apparently tired of household chores, so they decide to go with Darla to visit her uncle on his farm. The boys later realize that working on a farm is even worse, and would rather take household chores than farm work.
Notes/Trivia
Darla is seen wearing a straw hat in this episode. She would wear a straw hat again in "The Case of the Puzzled Pals".
The Rascals apparently do not have a problem with all work. In "Cap'n Spanky's Showboat", they fixed up a riverboat in order to get a ride; and in "After Hours", they worked in a department store warehouse.
Ad blocker interference detected!
Wikia is a free-to-use site that makes money from advertising. We have a modified experience for viewers using ad blockers

Wikia is not accessible if you've made further modifications. Remove the custom ad blocker rule(s) and the page will load as expected.