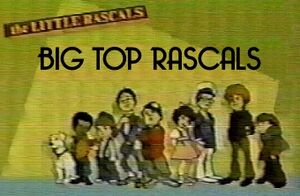 First aired: October 16, 1982
Story by: Unknown
Duration: 11 minutes
Cast
Summary
The Rascals try to sneak into the Dingling Bros. Circus, but are caught in the act, and are scared away. After the incident, the Rascals decide to put on their own circus, and invite some kids, charging 10 cents admission to all the kids, but let Butch and Woim in for free. Butch and Woim apparently take unfair advantage of the free admission.
Notes/Trivia
The Rascals setting up a circus may be a callback to the 1939 Our Gang short "Clown Princes".
In the acrobatic scene during the Rascals' circus, Darla wears a tutu with ballet slippers. This may be a callback to the theatrical short "Rushin' Ballet". She also wore one in a scene from the 1994 movie adaptation The Little Rascals.
Ad blocker interference detected!
Wikia is a free-to-use site that makes money from advertising. We have a modified experience for viewers using ad blockers

Wikia is not accessible if you've made further modifications. Remove the custom ad blocker rule(s) and the page will load as expected.