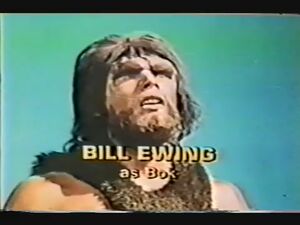 Bill Ewing (birth date unavailable) is an American actor. He played Bok on Korg: 70,000 B.C.
Biography
Bill Ewing is an actor and producer, known for Deathmaster (1972), The Hoax (1972) and End of the Spear (2005). He and his wife, Susan McIver, have one child.
Ewing is the founder and president of Every Tribe Entertainment and the non-profit Bearing Fruit Entertainment.
External links
Ad blocker interference detected!
Wikia is a free-to-use site that makes money from advertising. We have a modified experience for viewers using ad blockers

Wikia is not accessible if you've made further modifications. Remove the custom ad blocker rule(s) and the page will load as expected.