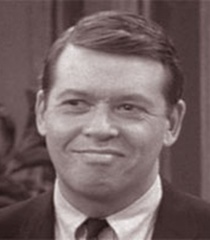 Bill Idelson (August 21, 1919–December 31, 2007) was an American actor. He was the voice of Mickey on The New Shmoo, where his surname was spelled Edelson.
Biography
Bill Idelson was born on August 21, 1919, in Forest Park, Illinois. He was a writer and actor, known for The Crawling Hand (1963), Gomer Pyle: USMC (1964) and The Andy Griffith Show (1960). He was married to Seemah Wilder from 1951 until his death on December 31, 2007, in Los Angeles.
External links
Ad blocker interference detected!
Wikia is a free-to-use site that makes money from advertising. We have a modified experience for viewers using ad blockers

Wikia is not accessible if you've made further modifications. Remove the custom ad blocker rule(s) and the page will load as expected.