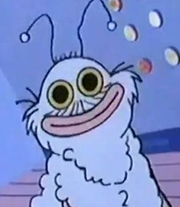 Bleep is Melody's fluffy pet alien with pink extremities. He makes a "bleep" sound (thus his name) which only Melody can understand.

Biography: Bleep is a pet-sized fluffy alien adopted by Melody, who was the only one who could understand the creature (who only says "Bleep") and numerous other alien animals encountered.
Ad blocker interference detected!
Wikia is a free-to-use site that makes money from advertising. We have a modified experience for viewers using ad blockers

Wikia is not accessible if you've made further modifications. Remove the custom ad blocker rule(s) and the page will load as expected.