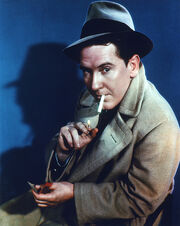 Oliver Burgess Meredith
(November 16, 1907–September 9, 1997) was an American actor, best known for portraying the
Penguin
in the 1966–68
Batman
television series on
ABC
. For Hanna-Barbera, Meredith was the narrator on
Korg: 70,000 B.C.
, which was also produced for ABC.
Biography
One of the truly great and gifted performers of the 20th century who often suffered lesser roles, Burgess Meredith was born in Cleveland in 1907 and educated in Amherst College in Massachusetts before joining Eva Le Gallienne's stage company in New York City in 1933. He became a favorite of dramatist Maxwell Anderson, premiering on film in the playwright's Winterset (1936).
Meredith served in the United States Army Air Forces in World War II, reaching the rank of captain. He continued in a variety of dramatic and comedic roles until being named an unfriendly witness by the House Un-American Activities Committee in the early 1950s, whereupon studio work disappeared. His career picked up again, especially with television roles, in the 1960s, although younger audiences know him best for either the Rocky (1976) or Grumpy Old Men (1993) films. Meredith also did a large amount of commercial work, serving as the voice for Skippy peanut butter and United Air Lines, among others. He was also an ardent environmentalist who believed pollution one of the greatest tragedies of the time, and an opponent of the Vietnam War.
Burgess Meredith died at age 89 of Alzheimer's disease and melanoma in his home in Malibu, California, on September 9, 1997.
External links
Ad blocker interference detected!
Wikia is a free-to-use site that makes money from advertising. We have a modified experience for viewers using ad blockers

Wikia is not accessible if you've made further modifications. Remove the custom ad blocker rule(s) and the page will load as expected.