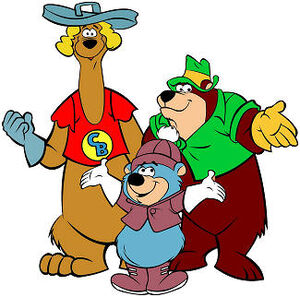 CB Bears was an hourlong omnibus show produced by Hanna-Barbera for NBC in 1977. The headliners were a trio of mystery-solving bears (voiced by Daws Butler, Henry Corden and Chuck McCann) who received assignments via citizens band radio. The five other segments were:
"Blastoff Buzzard": A chase cartoon in the vein of Warner Bros.' Road Runner and Wile E. Coyote. Neither the buzzard nor Crazylegs the worm ever spoke.
"Heyyy, It's the King!": An all-animal parody of Happy Days.
"Posse Impossible": A comedy Western spun off from the final episode of Hong Kong Phooey.
"Shake, Rattle and Roll": Three ghosts inhabit an abandoned hotel and outsmart the ghost hunter Sidney Merciless.
"Undercover Elephant": A pachyderm master of disguise and his mouse sidekick solve mysteries.
Episodes of the CB Bears segment were later aired as filler on the CBS children's series Captain Kangaroo.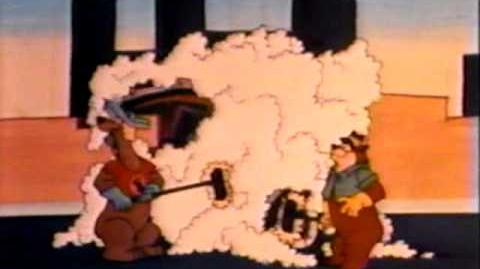 Voice cast
CB Bears
Heyyy, It's the King!
Posse Impossible
Shake, Rattle and Roll
Undercover Elephant
Episodes
Blastoff Buzzard
Buzzard, You're a Turkey
Hard Headed Hard Hat
Hearts and Flowers, Buzzards and Snakes
The Egg and Aye, Aye, Aye
Testing, One, Two, Three
Ho, Ho, Ho, It's the Birthday Buzzard
Wheelin' and Reelin'
Buzzard, Clean Up Your Act
Backyard Buzzard
Spy in the Sky
First Class Buzzard
Freezin' and Sneezin'
Cousin Snaky Is a Groove
CB Bears
The Missing Mansion Mystery
The Doomsday Mine
Follow That Mountain
The Valley of No Return
The Fright Farm
Drackenstein's Revenge
Water, Water, Nowhere
Wild, Wild Wilderness
Island of Terror
Go North, Young Bears
The Invasion of the Blobs
Disaster from the Skies
The Disappearing Satellites
Heyyy, It's the King!
The Blue Kangaroo
The First King of Mars
The Riverbed 5000
Surf's Up
The King and His Jokers
Hot Gold Fever
The Carnival Caper
The Unhappy Heavy Hippo
The King for Prez
Snowbound Safari
The Great Billionaire Chase Case
Boat Fever
Go for It, King
Posse Impossible
Big Duke and Li'l Lil
Trouble at Ghostarado
The Not So Great Train Robbery
The Alabama Brahma Bull
The Crunch Bunch Crashout
One of Our Rivers Is Missing
The Sneakiest Rustler in the West
Bad Medicine
Busting Boomerino
Roger the Dodger
Riverboat Sam, the Gambling Man
The Invisible Kid
Calamity John
Shake, Rattle and Roll
Guess What's Coming to Dinner?
The Ghostly Ghoul Is a Ghastly Guest
There's No Pest Like a Singing Guest
Shake the Lion-Hearted
The Real Cool Ghoul
Spooking Is Hazardous to Your Health
Spooking the Spook
From Scream to Screen
Gloom and Doom De-Doom
Polt R. Geist
Too Many Kooks
A Scary Face from Outer Space
Health Spa Spooks
Undercover Elephant
The Sneaky Sheik
Baron Von Rip'em Off
The Moanin' Lisa
Pain in the Brain
The Great Hospital Hassle
Latin Losers
Dr. Doom's Gloom
Chicken Flickin' Caper
Undercover Around the World
Irate Pirates
Perilous Pigskin
Swami Whammy
The Disappearing Duchess
External links