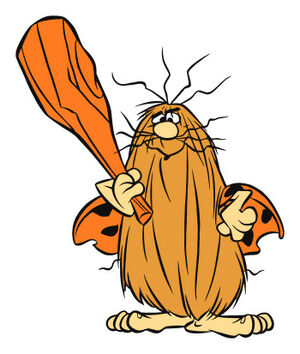 Captain Caveman
is a character created by Hanna-Barbera for the
Captain Caveman and the Teen Angels
segments of
Scooby's All-Star Laff-a-Lympics
. His design was based loosely on that of
Rock Slag and Gravel Slag
from
Wacky Races
.
Mel Blanc provided the character's voice.
His "birthday" is May 21st.
Backstory
After being thawed out by the Teen Angels, "Cavey" helped them solve supernatural mysteries, in the Scooby-Doo style. Cavey had super strength, kept live dinosaurs in his fur, and carried a club which enabled him to fly, among its other functions.
Later appearences
On The Flintstone Comedy Show in the early 1980s, Captain Caveman was shown living alongside the Flintstones. The Flintstone Kids changed his role yet again, making him the star of the show-within-a-show "Captain Caveman and Son".
Gallery
Screams
External links
Ad blocker interference detected!
Wikia is a free-to-use site that makes money from advertising. We have a modified experience for viewers using ad blockers

Wikia is not accessible if you've made further modifications. Remove the custom ad blocker rule(s) and the page will load as expected.