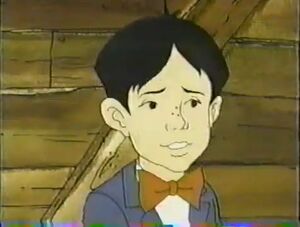 Carl Dean "Alfalfa" Switzer (7 August 1927 – 21 January 1959) was an American child actor, best known as a member of Our Gang from 1935 to 1940, recognizable by his cowlick and freckles. In Hanna-Barbera's animated version of The Little Rascals, he was voiced by Julie McWhirter Dees. Although unconfirmed, it is believed the animated version may be the oldest of the regular cast of characters, appearing to be about ten years old, which was his true age when he last appeared in the final Our Gang theatrical short produced by Hal Roach, "Hide and Shriek".
Biography
Switzer debuted in Our Gang in 1935 with his older brother, Harold, in the short "Beginner's Luck". Alfalfa's off-key singing of popular songs was just part of his screen persona; off screen, he was an expert singer and musician. Although Alfalfa was officially paired with Darla Hood, she was actually afraid of him and preferred to do scenes with George McFarland.
As an adult, Switzer worked as a dog breeder and hunting guide. He died at age 31 of a gunshot wound, which was held to be justifiable homicide.
External Links