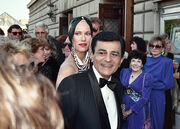 Kemal Amin "Casey" Kasem (April 27, 1932–June 15, 2014) was an American radio host and animation voice actor. His most noted radio experience was when he created and hosted the radio show American Top 40 from 1970 to 1988 and from 1998 to 2004, and he also narrated several educational segments for the TV series Sesame Street. His characters for Hanna-Barbera included Shaggy Rogers of Scooby-Doo and Robin of Super Friends.
Kasem was of Palestinian and Lebanese heritage. He was inducted into the Radio Hall of Fame in 1992. A strict vegetarian, Kasem insisted that Shaggy also be a vegetarian.
Hanna-Barbera roles
External links
Ad blocker interference detected!
Wikia is a free-to-use site that makes money from advertising. We have a modified experience for viewers using ad blockers

Wikia is not accessible if you've made further modifications. Remove the custom ad blocker rule(s) and the page will load as expected.