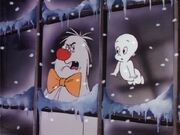 Casper the Friendly Ghost is an animated character who first appeared in Paramount theatrical cartoons. He later migrated to Harvey Comics, where he often interacted with Richie Rich.
In the late 1970s, Julie McWhirter Dees voiced Casper in two Hanna-Barbera productions: Casper and the Angels and Casper's First Christmas.
Ad blocker interference detected!
Wikia is a free-to-use site that makes money from advertising. We have a modified experience for viewers using ad blockers

Wikia is not accessible if you've made further modifications. Remove the custom ad blocker rule(s) and the page will load as expected.