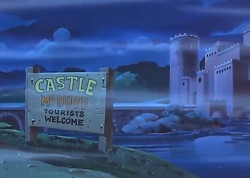 Castle McDuff is a location in The Scooby-Doo Show episode "A Highland Fling with a Monstrous Thing". The castle is the ancestral home of the McDuff family, currently owned by Aggie McDuff. It is open to the public as a tourist attraction.
History
Tourists were being scared away from the castle by the ghost of Finnyan McDuff and by the Loch Ness Monster.
External links
Ad blocker interference detected!
Wikia is a free-to-use site that makes money from advertising. We have a modified experience for viewers using ad blockers

Wikia is not accessible if you've made further modifications. Remove the custom ad blocker rule(s) and the page will load as expected.