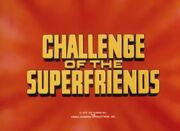 Challenge of the Superfriends is one of the series in Hanna-Barbera's Superfriends franchise. It has the largest cast of any Superfriends series: 11 heroes and 13 villains.
In every episode, Lex Luthor and his Legion of Doom plotted a grand criminal scheme. Inevitably, their schemes were somehow foiled by the Superfriends.
Heroes
Villains
Voice cast
Episodes
Wanted: The Superfriends
Invasion of the Fearians
The World's Deadliest Game
The Time Trap
Trial of the Superfriends
The Monolith of Evil
The Giants of Doom
Secret Origins of the Superfriends
Revenge on Gorilla City
Swamp of the Living Dead
Conquerors of the Future
The Final Challenge
Fairy Tales of Doom
Doomsday
Superfriends: Rest in Peace
History of Doom
External links
Ad blocker interference detected!
Wikia is a free-to-use site that makes money from advertising. We have a modified experience for viewers using ad blockers

Wikia is not accessible if you've made further modifications. Remove the custom ad blocker rule(s) and the page will load as expected.