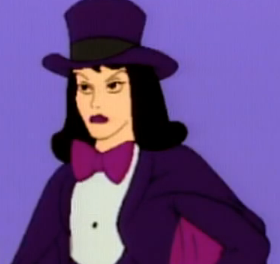 Chandra the Unbelievably Remarkable and Quite Interesting Too is a witch who performs as a stage magician. Appearing in The New Scooby-Doo Mysteries episode "A Halloween Hassle at Dracula's Castle", Chandra was one of the guests at Dracula's Halloween party.
Physical appearance
Chandra is a tall woman with fair skin and long black hair. Her magician's costume consists of a black top hat and black tuxedo with a purple bow tie.
History
Chandra claimed to have summoned the ghost of Dr. Van Helsing, but she was actually working with Igor, with a hidden motive to get the Moonstone Medallion, to give her enough magical power to take over the castle. Her plan backfired when she tried to turn Scooby-Doo into a toad. He ran fast enough to lead the spell back to her and transform her instead.
External links
Ad blocker interference detected!
Wikia is a free-to-use site that makes money from advertising. We have a modified experience for viewers using ad blockers

Wikia is not accessible if you've made further modifications. Remove the custom ad blocker rule(s) and the page will load as expected.