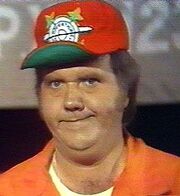 Chuck McCann (born September 2, 1934, in Brooklyn, New York) is an American comedian, voice actor and puppeteer. His voice roles for Hanna-Barbera TV shows and films included:
McCann also worked in live-action television, notably on the Krofft Brothers' Far Out Space Nuts, which he also created and wrote, with Bob Denver and Patty Maloney.
External links
Ad blocker interference detected!
Wikia is a free-to-use site that makes money from advertising. We have a modified experience for viewers using ad blockers

Wikia is not accessible if you've made further modifications. Remove the custom ad blocker rule(s) and the page will load as expected.