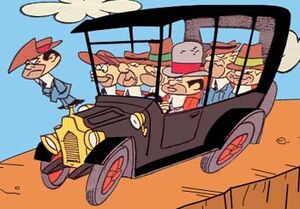 Chugga-Boom is The Ant Hill Mob's car which appears in The Perils of Penelope Pitstop, it's the successor of the Bulletproof Bomb from Wacky Races. Chugga-Boom was voiced by Mel Blanc.
He was mostly articulate and seemed to have a personality and a mind of his own, though at times the Chugga-Boom seemed completely inanimate and was then drawn without eyes on the headlights. And he is also known as courageous, heroic, understanding, good-tempered, generous, adventurous, daring, benevolent, outgoing, observant, mature, conscientious, hard-working, unselfish, gutsy, gentle, attentive, dependable, big-hearted, open-minded, obedient and mild-mannered.
Ad blocker interference detected!
Wikia is a free-to-use site that makes money from advertising. We have a modified experience for viewers using ad blockers

Wikia is not accessible if you've made further modifications. Remove the custom ad blocker rule(s) and the page will load as expected.