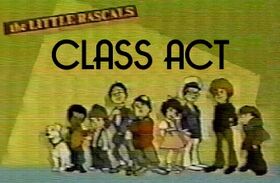 First aired: December 18, 1982
Rebroadcast: October 22, 1983
Story by: Unknown
Duration: 11 minutes
Cast
Summary
The Rascals have decided to enter Pete in a dog show. Waldo enters his pedigree dogs and claims the gang doesn't have a chance of winning. Pete and a poodle fall in love with each other.
Notes/Trivia
When the day of the contest arrives and the Rascals arrive in a limousine, Darla is seen wearing a fancy dress and hat, with a feather boa around her neck and wearing high heels. Arriving with her is Alfalfa, dressed in a straw boater hat and zoot suit.
This episode was later rebroadcast on October 22, 1983, during the second season of the series.
Ad blocker interference detected!
Wikia is a free-to-use site that makes money from advertising. We have a modified experience for viewers using ad blockers

Wikia is not accessible if you've made further modifications. Remove the custom ad blocker rule(s) and the page will load as expected.