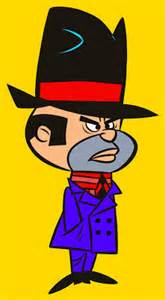 Clyde is the leader of the Ant Hill Mob in Wacky Races and The Perils of Penelope Pitstop.
Voiced by Paul Winchell, Clyde was based on Edward G. Robinson's character in the Warner Bros. film Little Caesar. He is the only member of the mob not to be renamed after Wacky Races. And he is also known as clever, lion-hearted, adventurous, daring, earnest, cantankerous, loyal, understanding, dependable and efficient.
Ad blocker interference detected!
Wikia is a free-to-use site that makes money from advertising. We have a modified experience for viewers using ad blockers

Wikia is not accessible if you've made further modifications. Remove the custom ad blocker rule(s) and the page will load as expected.