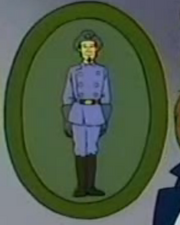 Colonel Beauregard appears in "Showboat Scooby", an episode of The New Scooby-Doo Mysteries. He was the fiancé of Magnolia. He lived long ago and is now deceased.
History
Early life
Magnolia was going to marry Beauregard on the Delta Queen, but she left him at the altar when she thought he had stolen her emerald necklace.In fact, the necklace was stolen by the captain of the Delta Queen, a rival for her affection, and hidden in the steering wheel of his ship in order to ruin the wedding.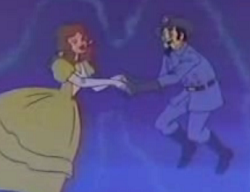 The New Scooby-Doo Mysteries
The colonel's real ghost appeared after he was posthumously cleared, able to be reunited with the ghost of his love at last.
External links
Ad blocker interference detected!
Wikia is a free-to-use site that makes money from advertising. We have a modified experience for viewers using ad blockers

Wikia is not accessible if you've made further modifications. Remove the custom ad blocker rule(s) and the page will load as expected.