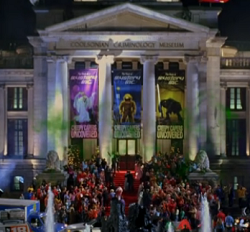 The Coolsonian Criminology Museum, featured in Scooby-Doo 2: Monsters Unleashed, is situated in the Scooby-Doo gang's home town of Coolsville and filled with costumes of the villians mystery inc caught.
The Pterodactyl Ghost snuck into the museum and pretended to be a costume. He stole the 10,000 Volt Ghost costume and the Black Knight Ghost costume, and escaped with the Evil Masked Figure.
Museum Exhibits
Trivia
A deleted scene from the film shows two crazy security guards doing static on each other. The 10,000 Volt Ghost appears out of the plug and destroys the code, and the door opens with the Black Knight Ghost coming. The 10,000 Volt Ghost zaps both security guards. Then, the Black Knight Ghost and the 10,000 Volt Ghost steal the rest of the costumes.