Country (voiced by William Callaway; singing voice by Michael Lloyd) is the Cattanooga Cats' lead singer/guitarist. In terms of stature, he's the tallest of the troupe, and is romantically linked with Kitty Jo.
Appearence-wise, Country wears a forest-green Hillbilly-type hat, purple ascot, chartreuse sweater and grayish-green vest, jeans and white boots. He also has an overhanging buck tooth from his upper lip, best noticed when his mouth is shut (such as in some of the music videos).
Gallery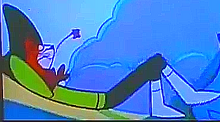 Ad blocker interference detected!
Wikia is a free-to-use site that makes money from advertising. We have a modified experience for viewers using ad blockers

Wikia is not accessible if you've made further modifications. Remove the custom ad blocker rule(s) and the page will load as expected.