The Creeper is a Villian in The Scooby-Doo World. He is the most popular and most recognizable Scooby-Doo monster of all time.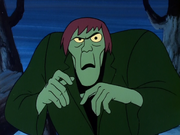 History
The Creeper was a phantom that stole money from the bank and mysteriously disappears til it will return the next night. It turned out that the Creeper was in fact a man known as Mr. Carswell, who stole money from the bank dressed as the Creeper to scare away security guards and steal the money for his own profit, but was foiled by Mystery Inc.
Other Appearances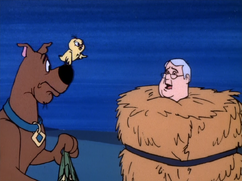 The Creeper makes an appearance in Scooby-Doo and the Cyber Chase as one of the original monsters assembled by the Phantom Virus.
The costume of the Creeper made a cameo at the Coolsonian Criminology Museum in Scooby-Doo 2: Monsters Unleashed.
The Creeper made two cameos in Scooby-Doo: Mystery Incorporated". First, his costume is at the Crystal Cove Spook Museum, and finally, Creeper was featured in a flashback and Alice May Carswell was Mr. Carswell's daughter.
The Creeper made a cameo in the 2012 Met-Life "Everyone" commercial alongside other notable Hanna-Barbera characters.
The Creeper/Mr. Carswell made an appearance in a State Farm commercial in 2013.
Ad blocker interference detected!
Wikia is a free-to-use site that makes money from advertising. We have a modified experience for viewers using ad blockers

Wikia is not accessible if you've made further modifications. Remove the custom ad blocker rule(s) and the page will load as expected.