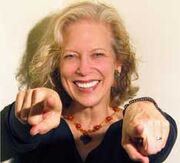 Cynthia Adler (born May 23, 1946) is an American actress and puppeteer. Her voice roles for Hanna-Barbera included:
Trivia
In July 1990, Adler created and produced an educational radio advertisement for the Environmental Bond Act along with Joy Golden and Meir Ribalow.
Adler has been married to John Henry Cox since 1994.
External links
Ad blocker interference detected!
Wikia is a free-to-use site that makes money from advertising. We have a modified experience for viewers using ad blockers

Wikia is not accessible if you've made further modifications. Remove the custom ad blocker rule(s) and the page will load as expected.