D.A.R.E. Bear Yogi is an animated public service film starring Yogi Bear.
Overview
D.A.R.E. Bear Yogi was produced by Hanna-Barbera Studios in 1989, in partnership with D.A.R.E. (Drug Abuse Resistance Education) program, to help educate and keep kids off drugs. In this comic musical animation, Yogi Bear, Boo Boo, Ranger Smith, the Flintstone Kids, Augie Doggie and Doggie Daddy, Captain Caveman, Snagglepuss, Shaggy Rogers, Quick Draw McGraw, Astro and other H-B characters all sing and dance in support of D.A.R.E. in Hollywood.
Iraj Paran, who did the art direction for this project, found the VHS version of it in his library. He modified and enhanced it and made this video for all Hanna-Barbera fans to enjoy.
Character voices were performed by Greg Burson, Darryl Hickman and Don Messick.
Gallery
Video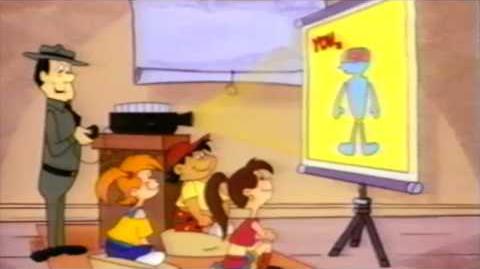 Ad blocker interference detected!
Wikia is a free-to-use site that makes money from advertising. We have a modified experience for viewers using ad blockers

Wikia is not accessible if you've made further modifications. Remove the custom ad blocker rule(s) and the page will load as expected.