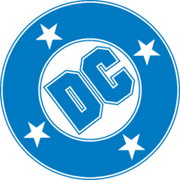 DC Comics, also known as Detective Comics and National Periodical Publications, is an American publisher of comic books. The Superfriends franchise is based on its characters. Like the Hanna-Barbera properties, DC Comics is part of Time Warner.
Hanna-Barbera titles
Cartoon Network Presents
Dexter's Laboratory
Larry Harmon's Laurel and Hardy
The Flintstones and the Jetsons
The Powerpuff Girls
Scooby-Doo

Scooby-Doo, Where Are You!

Space Ghost
External links
Ad blocker interference detected!
Wikia is a free-to-use site that makes money from advertising. We have a modified experience for viewers using ad blockers

Wikia is not accessible if you've made further modifications. Remove the custom ad blocker rule(s) and the page will load as expected.