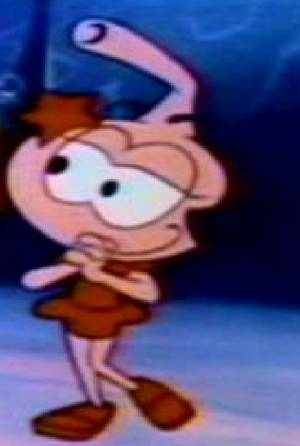 Daffney Gilfin is a character on Snorks, voiced by Nancy Cartwright in an impression of Mae Questel.
Overview
Daffney is a pretty coral-colored, black-haired female Snork who wears a bob haircut and a red star-shaped hairpin. She is always concerned with her looks, but has a good heart deep down. She won the title of Miss Junior Snorkland in a beauty pageant with the help of Yucky, a baby rainbow swamp fish (much like the ugly duckling).
With a talent in fine arts, Daffney becomes star of the show as the understudy in a play for Tallulah Bankfish, a famous Broadway theatre actress from New Snork City, and has entered a piece of sculpture for an art show.
Daffney is best friends with Casey Kelp and love interest to Dimmy Finster before the latter is written out. She also has a good relationship with Jo-Jo, who once calls Daffney "Alberta Einsnork", and Li'l Seaweed, with whom she shares fashion tips and works as fellow trapeze artist in a circus once.
Notes/trivia
Daffney's name is spelled this way possibly to avoid confusion with Scooby-Doo's friend Daphne Blake, the latter of whom is one of the signature female characters in the Hanna-Barbera universe.
Ad blocker interference detected!
Wikia is a free-to-use site that makes money from advertising. We have a modified experience for viewers using ad blockers

Wikia is not accessible if you've made further modifications. Remove the custom ad blocker rule(s) and the page will load as expected.