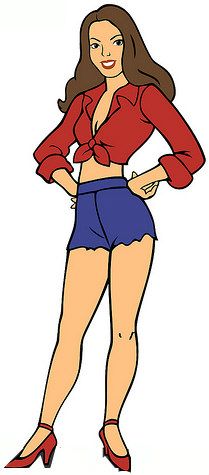 Daisy Duke is the main female character on both the original drama series The Dukes of Hazzard and its cartoon spinoff series, The Dukes. Like the live-action character, the animated version was voiced by Catherine Bach, and has naturally brown hair, wearing her trademark cut-off denim shorts.
In the 2005 movie adaptation, Daisy Duke was portrayed by pop singer Jessica Simpson. The movie version had blonde hair and wore cowboy boots.
Notes/Trivia
Daisy Duke was referenced in the chorus of Katy Perry's 2010 hit song "California Gurls".
Ad blocker interference detected!
Wikia is a free-to-use site that makes money from advertising. We have a modified experience for viewers using ad blockers

Wikia is not accessible if you've made further modifications. Remove the custom ad blocker rule(s) and the page will load as expected.