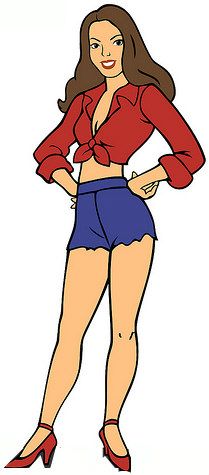 Daisy Duke is the main female character on both the original drama series The Dukes of Hazzard and its cartoon spinoff series, The Dukes. Like the live-action character, the animated version was voiced by Catherine Bach, and has naturally brown hair, wearing her trademark cut-off denim shorts which popularized a fashion fad in the early 1980s called "Daisy Dukes".
In the 2005 movie adaptation, Daisy Duke was portrayed by pop singer Jessica Simpson. The movie version had blonde hair and wore cowboy boots.
Notes/Trivia
Daisy Duke was referenced in the chorus of Katy Perry's 2010 hit song "California Gurls". It may be in reference to the cut-off denim shorts.