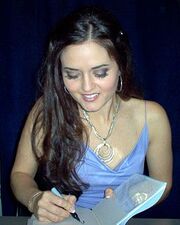 Danica Mae McKellar
(born January 3, 1975, in La Jolla, California) is an American actress, best known for her role on the
ABC
series
The Wonder Years
. She was the voice of Madelyn Dinkley in
Scooby-Doo! Abracadabra-Doo
.
Biography
Danica McKellar and her younger sister, Crystal, began acting at a young age in their mother's dance studio. In 1982, the family moved to Los Angeles and a few years later, Danica appeared in her first commercial. A few guest appearances in The Twilight Zone (1985) were followed by her breakthrough in The Wonder Years (1988). Danica has had good grades in math and French. In her spare time, she likes to go skiing, swimming and surfing.
External links
Ad blocker interference detected!
Wikia is a free-to-use site that makes money from advertising. We have a modified experience for viewers using ad blockers

Wikia is not accessible if you've made further modifications. Remove the custom ad blocker rule(s) and the page will load as expected.