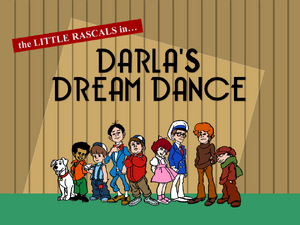 First aired: November 13, 1982
Story by: Unknown
Duration: 11 minutes
Cast
Summary
Darla organizes the school dance, which the boys are reluctant to attend. When Alfalfa learns that Waldo is Darla's dream date, the boys then have a change of heart, and decide to sabotage the event by doing nasty things when Darla dances with Waldo, including "spiking the punch" by adding Tabasco sauce to it.
Notes/Trivia
When the school dance is under way, Darla wears a party dress and tiara, serving as the queen of the dance. She would also wear a tiara in "Pete's Big Break".
There were heart-shaped balloons prevalent at the dance. It could be inferred that this was a Valentine's Day dance, and when this episode was rebroadcast on February 12, 1983, Valentine's Day was the following Monday.