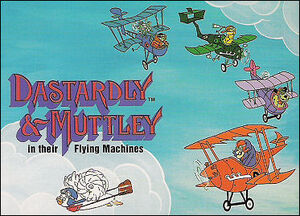 Dastardly and Muttley in Their Flying Machines was one of two series spun off from Wacky Races by Hanna-Barbera for CBS in 1969. Dick Dastardly led the Vulture Squadron in continual pursuit of the courier Yankee Doodle Pigeon. The other squadron members were Muttley, Klunk and Zilly. Paul Winchell and Don Messick performed all of the character voices.
Voices
Episodes
Fur Out Furlough/ Barn Dance/Hot Soup/Muttley on the Bounty/Sappy Birthday (9/13/1969)
Follow That Feather/Barber/Empty Hangar/What's New, Old Bean?/Operation Anvil (9/20/1969)
Sky Hi-IQ/Prop Wash/Carpet/The Marvelous Muttdini/A Plain Shortage of Planes (9/27/1969)
Barnstormers/Arnold/Pineapple Sundae/New Mascot/The Bad Actor/Shape Up or Ship Out (10/4/1969)
Stop That Pigeon/Grease Job/Robot/The Big Topper/Zilly's a Dilly (10/11/1969)
The Cuckoo Patrol/Automatic Door/Airmail/The Masked Muttley/Pest Pilots (10/18/1969)
The Swiss Yelps/Fishing/Snap Job/Eagle-Beagle/Movie Stuntman (10/25/1969)
Fly By Knights/There's No Fool Like a Re-Fuel/Springtime/Dog's Life/Strange Equipment/Coonskin Caper (11/1/1969)
Movies Are Badder Than Ever/Home Sweet Homing Pigeon/The Elevator/Obedience School/The Aquanuts (11/8/1969)
Lens a Hand/ Vacation Trip Trap/ Parachute/Leonardo De Muttley (11/15/1969)
Stop Which Pigeon?/Ceiling Zero Zero/ Fast Freight/Home Run/Start Your Engines (11/22/1969)
Who's Who?/Operation Birdbrain/Bowling Pin/Shrink Job/Ship Ahooey (11/29/1969)
Medal Muddle/Go South Young Pigeon/The Window Washer/Beach Blast/Admiral Bird Dog (12/6/1969)
Too Many Kooks/Ice See You/Echo/Rainmaker/Professor Muttley (12/13/1969)
Balmy Swami/Camouflage Hop-Aroo/Mop Up/Big Turnover/Wild Mutt Muttley (12/20/1969)
Have Plane Will Travel/Windy Windmill/Tough Break/The Astromutt (12/27/1969)
Plane Talk/Happy Bird Day/Boxing/Magic Carpet/Super Muttley (1/3/1970)
In the 17 "Magnificent Muttley" segments, in which Muttley is the main character, Muttley imagines himself in a lot of situations. These are the characters he pretends to be:
Sailor
Jack (from Jack and the Beanstalk)
Magician
Theatre Actor
Circus Acrobat
Masked Avenger
Movie Stuntman
Davy Crockett
Scuba Diver
Leonardo Da Vinci
Race Car Driver
Olympic Swimmer
Arctic Explorer
Inventor
Tarzan
Astronaut
Super-Hero
Ad blocker interference detected!
Wikia is a free-to-use site that makes money from advertising. We have a modified experience for viewers using ad blockers

Wikia is not accessible if you've made further modifications. Remove the custom ad blocker rule(s) and the page will load as expected.