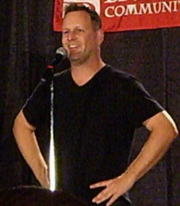 David Alan Coulier
(born September 21, 1959, in St. Claire Shores, Michigan) is an American comic actor and impressionist. His voice roles for Hanna-Barbera and Cartoon Network include:
Trivia
Coulier (pronounced "cool-yay") boasts that his stand-up comedy routine is suitable for all ages, but also states that it isn't so wholesome as Full House (1987).
He was the first lover of Alanis Morissette. They met at a celebrity hockey game and were together for a short time in the early 1990s. In a 2008 interview with the Calgary Herald, Coulier claimed to be the ex-boyfriend who inspired Morissette's song "You Oughta Know". Morissette, however, has maintained her silence on the subject of the song.
External links
Ad blocker interference detected!
Wikia is a free-to-use site that makes money from advertising. We have a modified experience for viewers using ad blockers

Wikia is not accessible if you've made further modifications. Remove the custom ad blocker rule(s) and the page will load as expected.