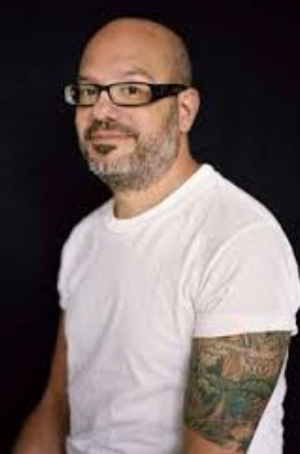 David Cross (born April 4, 1964, in Atlanta) is an American actor and comedian, best known for his work on HBO's sketch comedy series Mr. Show. He appeared in Night of the Living Doo.
Biography
David Cross was born in Atlanta to a Jewish family; his father immigrated from Leeds, England. Six months after his birth, Cross' family moved to Florida. After additional moves to New York and Connecticut, the family settled back in Roswell, Georgia, where Cross remained for nearly a decade. His father was often absent, and his family was poor.
Cross and his family were evicted from their home while living in Georgia. He spent some time living in motels and at friends' homes while growing up. Cross has been estranged from his father since age 19, although they both currently reside in New York City. He has two sisters, and once bailed his youngest sibling out of jail. He attended Northside High School of the Performing Arts (now North Atlanta High School), graduating in 1982. Cross was elected treasurer of his senior class and was voted "Most Humorous" by his classmates.
Cross began his professional television career as a writer on The Ben Stiller Show. The short-lived Fox Network series hired him toward the end of its run, and he occasionally made brief appearances in the sketches. He had a speaking role in "The Legend of T.J. O'Pootertoot", a sketch written almost entirely by Cross. It was during this period that he first met Bob Odenkirk, with whom he would later co-create the HBO sketch comedy series Mr. Show in 1995. Cross won an Emmy for his work on The Ben Stiller Show in 1993.
Cross later co-starred as Tobias Fünke in Arrested Development, which was originally intended to be only a minor role. He has also played smaller roles on programs such as Just Shoot Me!, The Drew Carey Show, NewsRadio, Strangers with Candy, Tim and Eric Awesome Show, Great Job and Aqua Teen Hunger Force. Since October 2005, Cross has appeared on Comedy Central's The Colbert Report as Stephen Colbert's arch-nemesis, Russ Lieber, a fictional liberal radio talk show host from Madison, Wisconsin. Cross also developed an animated series for Comedy Central called Freak Show, which co-starred H. Jon Benjamin, and was cancelled due to low ratings. He has appeared several times on the MTV2 series Wonder Showzen.
Cross continues to perform stand-up comedy, in which he blends liberal-leaning political commentary and satire.
External links
Ad blocker interference detected!
Wikia is a free-to-use site that makes money from advertising. We have a modified experience for viewers using ad blockers

Wikia is not accessible if you've made further modifications. Remove the custom ad blocker rule(s) and the page will load as expected.