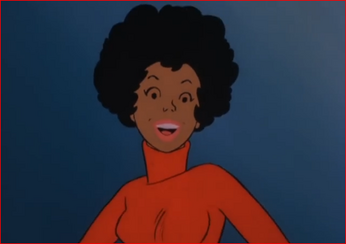 Dee Dee Skyes (voiced by Vernee Watson-Johnson) is an associate of Captain Caveman, one of the "Teen Angels" who found him frozen in a block of ice and thawed him out. Like Valerie Brown on Josie and the Pussycats, Dee Dee is the smartest and most serious member of the trio and Brenda's best friend.
Physical appearance
She is a young, attractive African American woman with a black afro. She wears a red turtle-neck, blue skirt and red boots.
Personality
She is the brainy one, which means she is most likely to solve the mysteries, making her the Velma Dinkley of the group. She also is very observant and is best friends with Brenda.
Gallery
Ad blocker interference detected!
Wikia is a free-to-use site that makes money from advertising. We have a modified experience for viewers using ad blockers

Wikia is not accessible if you've made further modifications. Remove the custom ad blocker rule(s) and the page will load as expected.